Active Items Only Stock Items Only Latex Free Only
Description
Price
Quantity
Plastic Procedure Trays, Reusable and Autoclavable, Can be used as Mayo Tray, Floor Tray, Custom Tray, and Procedure Tray, Reusable, Textured surface will not rust. Non-Perforated. Small, 10 7/16" x 13 9/16".
Manufacturer Item:
10-1961
Manufacturer:
SKLAR INSTRUMENTS

3 extra lids for the Wonder-Flo Cup. Liquid stops flowing when user isn't drawing. for 8 oz. cup. Contains natural rubber latex which may cause allergic reactions.
Manufacturer Item:
081003983
Manufacturer:
PATTERSON MEDICAL

Wall Manometers Accessories. Coiled Tubing, 8ft, Gray, Latex-Free. 5/box.
Manufacturer Item:
002343
Manufacturer:
GE MEDICAL SYS INFO CARDIO
Disposable Safety Mouthpiece
Manufacturer Item:
HS714-200
Manufacturer:
PHILIPS RESPIRONICS

Bias Cut Sterile Stockinette, 4" x 4 yd. UOM: CA. Packaging: 4 YD/RL, 20 RL/CA.
Manufacturer:
COVIDIEN/KENDALL HEALTHCARE
Item is no longer available.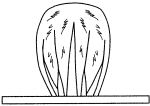 Universal Light Handle Kover. Single Pack. For long type handles. 50/case.
Manufacturer Item:
06-LK601
Manufacturer:
ADVANCE MEDICAL DESIGNS, INC.

Emesis Bag with Twist Closure Latex Free Sic Sac pack/24, case/6 packs of 24
Manufacturer Item:
EMEBAG
Manufacturer:
CENTURION MEDICAL PRODUCTS

Globe Scientific Caps for Flat Bottom/Self-standing Tubes. Closure; Plug Stopper Polyetheylene; For Tube Size: 13mm; Color: Natural. 1000/pack.
Manufacturer Item:
22170252
Manufacturer:
THERMO FISHER SCIENTIFIC
Item is no longer available.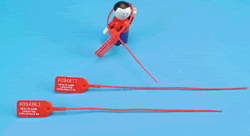 Pull-Tite II Seal - Consecutively Numbered, Red. Multiple locking positions in 1/8" increments to provide a snug seal on small to large gaps. One-piece, self-locking construction makes it easy to use. No tools are needed for removal, saving critical time to access the sealed unit. One side of the seal tab is textured to permit writing of verification information (e.g., date, time, initials). Excellent seal for code carts and emergency kits that need security with quick entry. Average pull apart force 11 - 14 pounds. Total length of the seal is 9".The seal tail is 7"L. Available 100 per package.
Manufacturer:
HEALTH CARE LOGISTICS, INC.

Tum-E-Vac Lavage Kits with Bite Block. Latex-Free. Disposable bite block. Completely disposable. Can be used by one person with quick efficient evacuation. No clean-up or disinfection procedures. Packaging: 20 units/box.
Manufacturer Item:
950094201
Manufacturer:
ETHOX MEDICAL, LLC.

Clean Tubing Connectors. 6-in-1 "Y" Connector. Lightweight, autoclavable plastic tubing connectors come in a variety of configurations and are transparent to allow easy observation of flow. 15/box, 150/case.
Manufacturer:
CARDINAL HEALTHCARE CORPORATON
Item is no longer available.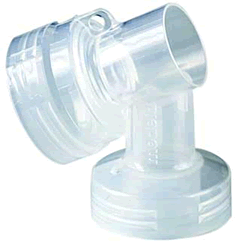 PersonalFit Connectors. Features and Benefits: Fits all Medela PersonalFit Breastshields. Chosen for you and your baby - All parts that come into contact with breastmilk are BPA/DEHP Free. What´s Included: 2 PersonalFit Connectors, Breastshields sold separately.
Manufacturer:
MEDELA, INC.