Active Items Only Stock Items Only Latex Free Only
Description
Price
Quantity

7" Black Comb - (144 pieces per polybag), Plastic. Packaging: 1440/Case.
Manufacturer:
NEW WORLD IMPORTS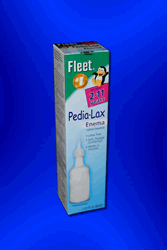 Pediatric Enema 2 1/4 oz
Manufacturer:
C.B. FLEET COMPANY, INC.

Pill Organizer. Individual days are removable. 4 compartments for each day of the week. dispenses exact dosage 4 times a day to help eliminate user confusion. 1 each.
Manufacturer:
GRAHAM-FIELD HEALTH PRODUCTS

JOBST UltraSheer Hosiery- Large Knee High, Silky Beige, 81% Nylon, 19% Spandex.
Manufacturer Item:
119330
Manufacturer:
BSN MEDICAL, INC.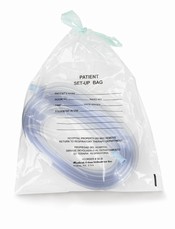 Patient Belonging Bags, 12 X 16, 1-2 Gallon, Clear. Set-Up bag, printed blue with drawstring. Provides a write-on surface for identification. Sufficient size and strength to store most personal belongings a patient may have at time of admission. Latex-Free. Packaging: 500/case.
Manufacturer:
MEDEGEN MEDICAL PRODUCTS, LLC.

Patient Belonging Bag. 20" x 20". White, Plastic, Drawstring. Blue lettering. Packaging: 250/Case.
Manufacturer Item:
0010059
Manufacturer:
CARE LINE, INC.

SURGICAL CLIPPER with Pivoting Head and Clipper Blade Assembly: Purple, Single-use blade Assembly. The clipper blade is used with a compact and lightweight rechargeable surgical clipper with a pivoting head for removing head and body hair from patients in preparation for surgery or other procedures requiring hair removal. Single-use blades help reduce the risk of cross-contamination and are easy to snap on for use and pop off for disposal. The cutting blade is positioned on top of the stationary blade, away from the skin, so there's minimal risk of nicksor cuts. Packaged; 1 each, 50 each/case.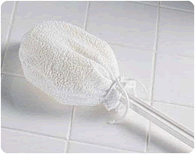 Round Loofah. Polyfoam sponge on white, plastic handle can be customized with heat gun and bent to a desired angle. Sponges are treated with an antibacterial agent that prolongs sponge life. Synthetic "Loofah" on one side and the other side is polyfoam. Total length 22 1/2". Latex Free.
Manufacturer Item:
081170067
Manufacturer:
PATTERSON MEDICAL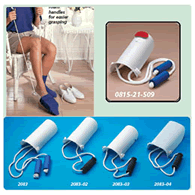 Sock and Stocking Aid with Built-Up Foam Handles: Adult, 4" W x 9 1/2" L, Rope 30". Easy-to-Use aid helps individual pull on sock or stocking. Just place sock over the flexible plastic core, insert foot and pull the cord's two soft foam handles to bring sock over heel and up leg. Latex Free.
Manufacturer Item:
081007640
Manufacturer:
PATTERSON MEDICAL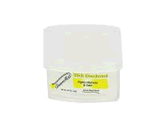 DAWNMIST DEODORANT. 0.16OZ, STICK. SD016. 144 PER BOX, 4 BOXES PER CASE (576 CASE).
Manufacturer:
DUKAL CORPORATION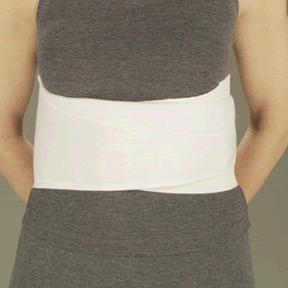 Low-profile, single-panel construction for support and relief in precise locations. Stretch elastic with hook and loop construction provides snug and comfortable fit. Designed for male patients for anatomical correct fitting. 12/Box.
Manufacturer Item:
13740300
Manufacturer:
DEROYAL INDUSTRIES, INC.