Active Items Only Stock Items Only Latex Free Only
Description
Price
Quantity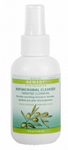 Remedy 4-in-1 Antimicrobial Cleanser 4 oz. Indicated for hair, body, perineal and peristomal area. Cleanses, moisturizes, helps provide protection against microorganisms and nourishes the skin in one step. Aids in reducing odor. Optimizes shelf space and nursing time. Contains benzalkonium chloride to help protect against microbial contamination. Aids in reducing odors associated with excessive bioburden. Has a phospholipid base that binds both water and nutrients to gently clean and condition the skin. Remedy cleansers contain ingredients derived from natural and organic oils that mimic the body's natural lipids. Phospholipids will gently cleanse the skin without stripping it from its naturaloils. Olivamine is a blend of antioxidants, amino acids, vitamins and methylsulfonylmethane. These ingredients are all known to play a vital role in basic cellular construction and protection. Olivamine contains antioxidants like hydroxytyrosol, the most potent antioxidant known today. Also contains amino acilike L-proline, L-cysteine and glycine-three main building blocks of collagen. These components also treated with photoacoustic resonance to help minimize tendency for inflammation and to ensure they can be rapidly accepted by the skin. 24/case.
Manufacturer Item:
MSC094204
Manufacturer:
MEDLINE INDUSTRIES, INC.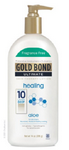 LOTION GOLD BOND ULTIMATE HEAL 14OZ UPC#41167-06651
Manufacturer Item:
41167006651
Manufacturer:
CHATTEM, INC.

VASELINE, Petroleum Jelly, 3.25 oz. Tube, Pure Ultra White. Bulk Pack. Wound care product. UOM: CA. Packaging: 72 TB/CA.
Manufacturer Item:
8884430300
Manufacturer:
CARDINAL HEALTHCARE CORPORATON

This item has been discontinued and replaced by item
434217
Manufacturer Item:
3853751
Manufacturer:
AMERISOURCEBERGEN DRUG CORP.
Item is no longer available.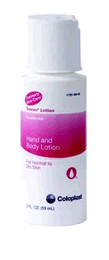 XTRA-CARE, SWEEN Moisturizing Body Lotion, 2 fl. oz./59 ml. Non-occlusive lotion. Helps retain moisture for long-lasting, soothing relief of dry-skin symptoms. Revitalizes dry skin. Packaging: 36/Box.
Manufacturer:
COLOPLAST CORPORATION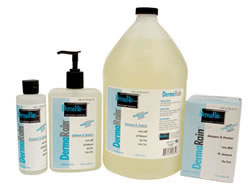 DermaRain Extra mild skin cleanser & shampoo, DermaRain 8oz., Shower/Bath/Face/Hair/Body/Hands, Extra mild for sensitive skin and hair, Dye free, Cleans and moisturizes fragile sensitive skin, One step Skin Cleanser and Shampoo, PH balsnced Formula, 48/cs
Manufacturer:
DERMARITE INDUSTRIES

Manufacturer:
AMERISOURCEBERGEN DRUG CORP.
Item is no longer available.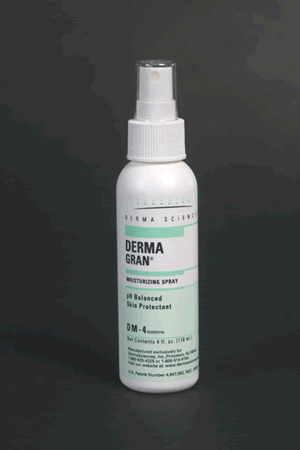 Dermagran moisturizing spray is a pH balanced skin protectant. It conditions the skin before application of Dermagran® Ointment or another appropriate dressing. Ingredients include Ionic Zinc, Vitamin A, Vitamin B6, Calcium and Magnesium. For Stage I Pressure Ulcers, abrasions, and preventive skin care. 4 oz spray 12/case.
Manufacturer:
DERMA SCIENCES, INC.

Manufacturer Item:
S-1110
Manufacturer:
APLICARE/CLOROX HEALTHCARE
Item is no longer available.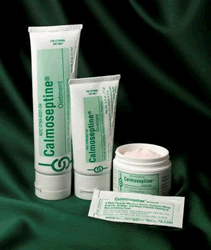 Calmoseptine Ointment, 2.5 oz. / 71 g Tube. Protects and helps heal skin irritations from: incontinence of urine or feces, feeding tube leakage, minor burns and scrapes, moisture such as perspiration, fecal or vaginal fistulas, wound drainage, and/or diaper rash. Apply 2-4 times daily or after each incontinent episode or diaper change to promote comfort and long lasting protection. Available without a prescription. Made in U.S.A. Packaging: 12/Case.
Manufacturer Item:
0799-0001-02
Manufacturer:
CALMOSEPTINE, INC.

CAVILON No Sting Barrier Film: 28.0mL pump spray bottle, Hypoallergenic,. A Sting-free, alcohol-free liquid barrier film that dries quickly to form a breathable, transparent coating on the skin. Designed to protect intact or damaged skin from urine, feces, other body fluids, tape trauma, and friction, up to 72 hours. Packaging: 1 each, 12 each/case.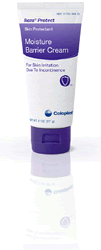 BAZA, SWEEN Pro Occlusive Skin Protectant Cream, Perineal Barrier, 2 oz. Tube. Zinc oxide-based barrier with dimethicone. Provides relief of the inflammation caused by diaper dermatitis. All purpose skin barrier for incontinence. Use on intact to slightly excoriated skin (light to moderate incontinence). UOM: BX. Packaging: 12/BX.
Manufacturer:
COLOPLAST CORPORATION