Active Items Only Stock Items Only Latex Free Only
Description
Price
Quantity
CARELINE.# 110544. SHAVING CREAM. 1 1/2 OUNCE. 144 PER CASE.
Manufacturer Item:
0284400
Manufacturer:
CARE LINE, INC.

SWEEN 24 MOISTURIZER. 2OZ. HELPS SOOTHE RED, SORE, DRY SKIN. 12 PER BOX.
Manufacturer:
COLOPLAST CORPORATION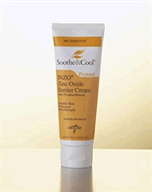 INZO Invisible Zinc Oxide Barrier Cream. 8 ml. unit pack. Soothe & Cool INZO Invisible Zinc Oxide Barrier Cream Prevents Moisture from Compromising Skin. Ideal under tape, INZO leaves a non-greasy, invisible moisture barrier. Non-petrolatum formula won't obstruct brief pores. Vitamins A, D and E nourish the skin. Unique formula of 5% dimethicone and 5% zinc oxide helps protect the skin. Dimethicone is a silicone-based skin protectant that moisturizes the skin, while zinc oxide will protect against moisture. Ideal for ostomy sites or peri wound skin to protect skin from maceration damage. Prevents moisture, urine and fecal matter from contacting skin. INZO allows the skin to breathe without being occlusive. Specially formulated without dyes or perfumes. 1 box/gross, 144 each/gross.
Manufacturer Item:
MSC095422
Manufacturer:
MEDLINE INDUSTRIES, INC.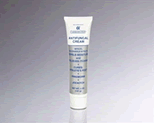 Carrington Antifungal Cream Provides Relief to Skin Irritations. Relieves the itching, burning, scaling and discomfort associated with skin conditions such as athlete's foot, ringworm and jock itch. Contains 2% Miconazole Nitrate in a formulation that repels moisture. Acrylic copolymer protects skin from moisture-related skin problems. 5 oz tube. 12 Each / Case.
Manufacturer Item:
CRR105050
Manufacturer:
MEDLINE INDUSTRIES, INC.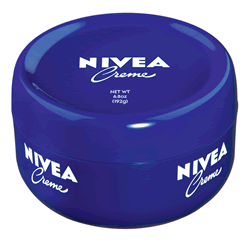 AQUAPHOR Healing Ointment, 1.75 oz. Tube. Provides unique protective environment that enhances skin's own healing ability. Indicated for use as stable neutral compounding base and as treatment for severely dry skin. Hypoallergenic, fragrance free and no preservatives. UOM: CA. Packaging: 24 TB/CA.
Manufacturer Item:
0-72140-80132 8
Manufacturer:
BEIERSDORF, INC.

Alcare Plus Aniteseptic Handrub, 17 oz. This handrub is foam, alcohol-based healthcare personnel handrub with broad-spectrum antimicrobial action against pathogenic microorganisms. It provides the same benefits as Alcare Antiseptic Handrub but is not a surgical scrub. The Alcare Plus formulation of 62% ethyl alcohol and enhanced emollients provides hand antisepsis and moisturization at the same time. Is ideal for use where immediate, waterless hand degerming compliance is needed. Formulated with enhanced emollients for high frequency professional use and is compatible with CHG products. This product is white in color. Packaging: 12/Case.
Manufacturer Item:
639990
Manufacturer:
STERIS CORPORATION

SoftGUARD Extra-Strength Barrier Hand Cream, 3 oz. (89mL) Squeeze Tube with Flip Top Cap. Helps prevent skin irritation caused by frequent washing & gloving. Thermo Scientific SoftGUARD® Hand Cream has a unique barrier feature that helps prevent skin irritation and occlusion of the skin. Formula is non-greasy, absorbs immediately and is pH balanced with the skin. SoftGUARD is compatible with latex, nitrile, vinyl, CHG and antimicrobial soaps. Formula does NOT contain petroleum or mineral oil, and is fragrance-free. The extra-strength antimicrobial preservative system in SoftGUARD helps prevent cross-contamination between users. For maximum relief of dry, chapped hands, use SoftGUARD in conjunction with SoftCIDE Extra-Mild Healthcare Personnel Handwash. Packaging: 12/Case.
Manufacturer Item:
12003-12-001
Manufacturer:
THERMO FISHER SCIENTIFIC/ERIE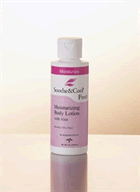 Soothe & Cool Moisturizing Body Lotion. 4 oz. Flip Top Container. With Natural Aloe Is Ideal for Everyday Use. Enhanced formula of nourishing aloe and vitamin E help soothe skin. Can be used on the entire body. It is also ideal for after bathing or massaging. Rubs in easily without leaving skin feeling greasy. 48/case.
Manufacturer Item:
MSC095368
Manufacturer:
MEDLINE INDUSTRIES, INC.

Remedy Antifungal Cream, 4 oz. Remedy Antifungal Cream Effectively Treat Fungal Infections While Gently Nourishing the Skin. Remedy Antifungal Cream help treat the most common fungal infections including tinea pedis (athlete's foot), tinea cruris (jock itch) and tinea corporis (ringworm). Helps relieve itching, burning and irritation. 12/case.
Manufacturer Item:
MSC094604
Manufacturer:
MEDLINE INDUSTRIES, INC.

Remedy Nutrashield. 4 oz. Provides an Effective, Long-Lasting Moisture Barrier Against Incontinent Skin Damage. Nutrashield provides an effective, long-lasting moisture barrier against incontinent episodes while relieving dryness, abrasion or denuded skin. It protects the skin with an advanced silicone system. This combination helps Nutrashield last after repeated washings. Helping to prevent skin moisture from evaporating is an important function of Nutrashield. Nutrashield protects against TEWL by sealing in the moisture and creating a more favorable environment for healthy skin. Continues to offer protection even after multiple washings. Ideal for patients with very dry skin, such as those associated with venous leg ulcers, and can be used under compression wraps. Unlike other moisturizers, Remedy Nutrashield won't interfere with the antimicrobial properties of CHG (Chlorhexidine Gluconate). It can be used before or after washing with CHG products. Additionally, it does not interfere/degrade latex gloves. 12/case.
Manufacturer Item:
MSC094534
Manufacturer:
MEDLINE INDUSTRIES, INC.

Remedy 4-in-1 Cleansing Lotion, 8 oz. No-Rinse 4-in-1 Cleansing Lotion provides moisturization and light protection from incontinence. Indicated for face, perineal and peristomal areas when moisturization and a moisture barrier are required to protect skin. 12/case.
Manufacturer Item:
MSC094308
Manufacturer:
MEDLINE INDUSTRIES, INC.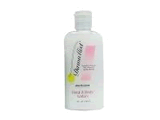 DawnMist Skin Care Product, Hand and Body Lotion. 4 oz Bottle with twist cap. Softens and moisturizes. Packaging: 96/Case.
Manufacturer Item:
HL3343
Manufacturer:
DUKAL CORPORATION