Active Items Only Stock Items Only Latex Free Only
Description
Price
Quantity

Manufacturer Item:
70-2233
Manufacturer:
MAGELLAN DIAGNOSTICS, INC.

This item has been discontinued and replaced by item
147531
HemoPoint H2 Microcuvettes Strips, Clear Polystyrene. 4 Containers with 50 Cuvettes each. Packaging: 1 Kit (200 Test).
Manufacturer Item:
3010-200
Manufacturer:
EKF DIAGNOSTICS/STANBIO LABS
Item is no longer available.

40 Patient Screening Kits Hemoccult ® ICT Tests, CLIA Waived. Packaging: 40/Box, 4 Boxes/Case.
Manufacturer Item:
395066A
Manufacturer:
BECKMAN COULTER, INC.

Hemoccult ICT Tests, 20 Test Devices and 1 Bottle Hemoccult ICT Buffer/8.0mL. CLIA Waived. Packaging: 20/Box, 4 Box/Case.
Manufacturer Item:
395067A
Manufacturer:
BECKMAN COULTER, INC.
Item is no longer available.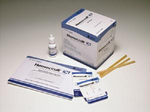 Hemoccult® ICT, 4 Bottles - 2 Postive and 2 Negative. Hemoccult ICT is the latest and most advanced FOBT in the Hemoccult family of rapid, diagnostic tests. As an immunochemical FOBT (iFOBT), Hemoccult ICT has major advantages over traditional guaiac FOBTs, which make it an ideal screening tool and a superb product for you to recommend to your physician clients. Superior specificity for lower GI disease and bleeding-makes Hemoccult ICT an ideal CRC screening tool. Human hemoglobin specific means fewer false positives. Increased specificity with high sensitivity. Hemoccult ICT's clinical effectiveness has been established in clinical trials. No diet or medication restrictions for better patient compliance and test completion. CLIA waived. Packaging: 2 Kits/Box, 4 Boxes/Case.
Manufacturer Item:
395068A
Manufacturer:
HEMOCUE AMERICA
Item is no longer available.

ICON Mono Test, Rapid Heterophile antibody test for Infectious Mononucleosis. Immunoassay for the qualitiative detection of infectous Mononucleosis Heterophile Antibodies in whole blood, serum or plasma. The test is intended for use as an aid in the diagnosis of infectious mononucleosis. Packaging: 25/Box, 4 Boxes/Case.
Manufacturer Item:
395100A
Manufacturer:
BECKMAN COULTER, INC.

ICON 20 hCG Pregnancy Test, Detection of Human Chorionic Gonadotropin in serum or urine. One step pregnancy test for the early detection of pregnancy. Packaging: 25/Box, 4 Boxes/Case.
Manufacturer Item:
395097A
Manufacturer:
BECKMAN COULTER, INC.
Fecal Hemaprompt Test
Manufacturer:
AERSCHER DIAGNOSTICS, INC.

The QuickVue iFOB test is an FDA-cleared and CLIA waived rapid immunochemical diagnostic tool intended to detect the presence of blood in stool specimens. Blood in stool is an indication of a number of gastrointestinal disorders,including colorectal cancer. Bold Burgundy Color End Points Easy to read test results 5-10 Minutes to Result Allows prompt diagnosis and treatment scheduling. 1 Step Procedure Fewer procedural steps. Decreases risk of operator error. Pictorial Procedure Guide Simplifies understanding of test procedure. Immunochemical Assay Specific to human hemoglobin, unlike Guaiac-based tests which also detect peroxidase activity and animal blood from food. Room Temp Storage Requires no reagent warm-up. Use as needed without waiting. Doesn't take up refrigerator space. 24 Month Dating Provides flexibility for low volume labs. Built-in Internal Control Indicates an adequate volume of specimen was used. Patented Specimen Collection Tube Convenient, odor-free collection tube functions as specimen applicator and allows for short term storage of sample. Specimen remains hydrated maintaining the integrity of the sample. No dietary restrictions, No medication restrictions improves patient compliance. 10 specimen collection kits. 12 kits/case.
Manufacturer:
QUIDEL CORPORATION

TOSI washer test. Easy to use blood soil device that directly correlates to the cleaning challenge of surgical instruments. TOSI is the first device to provide a consistent, repeatable, and reliable method for evaluating the cleaning effectiveness of the automated instrument washer. This is possible, because the blood soil is manufactured to exacting specifications each and every time. When metered on to the stainless steel plate, the TOSI is completely analogous to a stainless steel instrument soiled with dried blood. Placed in the see-through plastic holder, the challenge is identical to the areas of instruments typically hidden from view (i.e., box locks). The routine use of this test will help insure that your instrument washer is performing at a consistent level, enhancing the routine. Packaging: 30/Case.
Manufacturer:
HEALTHMARK INDUSTRIES,CO.,INC.

Hemoccult II Triple Test Cards. Each box contains: 34 Hemoccult II Triple Test Cards, Two 15mL bottles of developer and 102 Applicators. Packaging: 10 Boxes/Case.
Manufacturer Item:
61200A
Manufacturer:
HEMOCUE AMERICA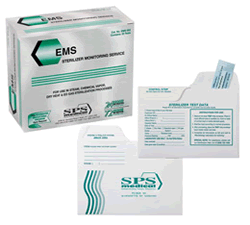 EMS Sterilizer Monitoring Service. Our value system provides customers with one test strip and one control strip which meets all local and national guidelines for spore testing. Chemical Vapor test results are documented after 3 days incubation at our laboratory. Test reports are sent on a quarterly basis, though access to spore test results are available any time at www.checkyourtest.com. The EMS is also certified for use in Steam, Dry Heat, and EO Gas processes. Packaging: 12/Box.
Manufacturer Item:
EMS-012
Manufacturer:
CROSSTEX/SPS MEDICAL