Active Items Only Stock Items Only Latex Free Only
Description
Price
Quantity

Spur II Resuscitator, Child Bag with Peep Valve.
Manufacturer Item:
530613001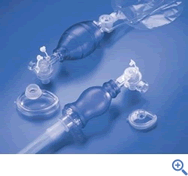 1ST RESPONSE Pediatric Manual Resuscitator. Includes: translucent purple resuscitation bag, 360 degree patient swivel with tethered dust cap, 40 cm H2O pressure relief valve with tethered cap, manometer port with tethered cap, 40" flexible tubing reservoir, child mask. User can see and monitor bag performance without losing sight of patient. UOM: CA. Packaging: 9/CA.
Manufacturer:
SMITHS MEDICAL ASD, INC.

LIFESAVER, Disposable Manual Resuscitator with Flow Diverter and Mask, Pediatric. Designed to meet ISO and ASTM resuscitator bag standards. Unique right-angle connector swivels 360 degrees. Includes: pressure monitoring port and 40 cm pressure relief pop-off valve. UOM: CA. Packaging: 6/CA.
Manufacturer:
TELEFLEX MEDICAL, INC.

Hyperinflation Bag, .5L. Contains natural LATEX rubber. Designed to provide controlled or assisted ventilation to neonatal and pediatric patients. High quality, durable bag allows clinicians to feel patient's lung compliance. Adjustable valve for fingertip control of system pressure. Includes STAR LUMEN oxygen tubing. UOM: CA. Packaging: 20/CA.
Manufacturer:
TELEFLEX MEDICAL, INC.