Active Items Only Stock Items Only Latex Free Only
Description
Price
Quantity

Exuderm Satin Hydrocolloid. 6" x 6". Satin-back , waterproof dressing is designed to protect wounds against external bacterial contamination and manage light to moderate exudating wounds while maintaining dressing integrity. Low profile, tapered edge resists roll-up. Smooth, satin backing is practically friction-free for longer wear. 5 each/box.
Manufacturer Item:
MSC5466
Manufacturer:
MEDLINE INDUSTRIES, INC.
Stratasorb Composite Island Dressing. 4" x 4", 2-1/2" x 2" pad. Protects, Absorbs and Helps Keep the Wound Moist. Has four distinct layers designed to cover all stages of wound care. Layer 1, a non-adherent contact layer, protects the wound site and will not stick to granulating tissue. Layer 2, a soft pad, absorbs drainage. Layer 3, a non-woven backing with an adhesive border, securely holds the contact pad in place. Layer 4, a semi-occlusive, polyurethane film, helps deter external contaminants and maintain an optimal wound environment. Rectangular shape is designed for post-op applications. 10 box/Case, 100 Each/Case.
Manufacturer Item:
MSC3044
Manufacturer:
MEDLINE INDUSTRIES, INC.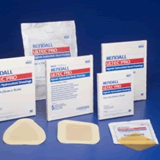 ULTEC, PRO Alginate Hydrocolloid Dressing, 4" x 5", Sterile. Individually wrapped in peel-back package. Wound care product. UOM: CA. Packaging: 5/CT 10 CT/CA.
Manufacturer:
COVIDIEN/KENDALL HEALTHCARE

Conservation Blood System Kit with 3/16in Round PVC Wound Drain. Packaging: 6/Box.
Manufacturer Item:
0225-426-000
Manufacturer:
STRYKER INSTRUMENTS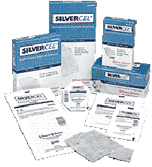 Alginate Silvercel Dressing. 4" x 8". Nonwoven. Adherent. SILVERCEL® is a sterile, non-woven pad composed of a high G (guluronic acid) alginate, carboxymethylcellulose (CMC) and silver coated nylon fibers. SILVERCEL® has been proven to be a suitable dressing for the management of chronic wounds. SILVERCEL® provides a sustained release of silver ions within the dressing for more than 7 days, allowing for an effective antimicrobial protection for the entire wear time, depending on the level of exudate. SILVERCEL® is effective against more than 150 wound pathogens. Increases its tensile strength when in contact with wound exudate, allowing for intact removal. SILVERCEL® has excellent fluid handling capacity in vitro even under compression, and in combination with the secondary dressing TIELLE® Plus. Latex Free. UOM: 25/CS.
Manufacturer Item:
800408
Manufacturer:
SYSTAGENIX WOUND MANAGEMENT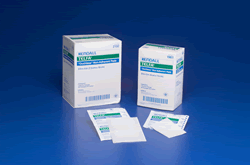 TELFA OUCHLESS NON-ADHERENT DRESSING ABSORBENT COTTON PAD SUPERIOR DRESSING WON'T DISRUPT HEALING TISSUE BY STICKING TO WOUND NON-STERILE BULKMYLAR FILM ON BOTH SIDES 3" X 8" 4000/CS
Manufacturer:
COVIDIEN/KENDALL HEALTHCARE

Acticoat- 5" x 5"- A potent antimicrobial barrier dressing. The Nanocrystalline coating of silver rapidly kills a broad spectrum of bacteria in as little as 30 minutes. Acticoat consists of three layers: an absorbent inner core sandwiched between outer layers of silver coated, low adherent polyethylene net. Nanocrystalline silver protects the wound site from bacterial colonization whilge the inner core helps maintain moist wound environment. Sustained release of silver for 3 days. Fast acting, easy to use, Prevents and reduces infection. Can be used on extensive body surface area wounds. Assists faster healing. 5/pkg, 5 pkgs/unit.
Manufacturer:
SMITH & NEPHEW WOUND MANAGEMNT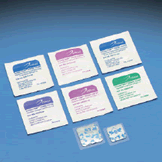 Hydrogel, 7/8" Sensor Probe Replacement Cover System. For accurate measurement of baby's skin temperature. Covers for maximum adhesion. Maximize conformability. Reflective sensor cover deflects radiant heat for more accurate readings. Latex Safe. 100/box, 2 boxes/case.
Manufacturer Item:
HNICU-02
Manufacturer:
DEROYAL INDUSTRIES, INC.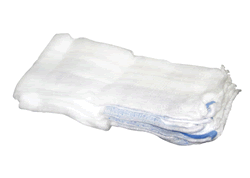 DUKAL Sterile, Vaginal Packing, 2" X 36", 4 ply. X-ray detectable and latex-free. 28 X 24 mesh, edges folded in. Packaging: 1/pk, 100 pk/cs.
Manufacturer:
DUKAL CORPORATION