Active Items Only Stock Items Only Latex Free Only
Description
Price
Quantity

ResiStat Men's Protective Lab Coats. Large, White. Resistat Men's Protective Lab Coats Offer the Protection You Need. 99% polyester/1% cotton fluid resistant protective lab coat. Front closure has lapel collar and a 3 inch overlap with five snaps for added protection against splash. Extra-long sleeves have snug-fitting, 100% polyester knit cuffs. Features hip pockets and side vents for easy access to pants pockets. Made of fluid repellant fabric. 1/box.
Manufacturer Item:
MDT046805L
Manufacturer:
MEDLINE INDUSTRIES, INC.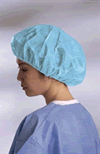 Boundary® Bouffant Caps. Bouffant Caps Provide Hours of Comfortable Protection. All caps comply with NFPA standards and are latex-free. Double-stitched elastic band keeps caps flat and comfortable on the forehead. Economy Cap. Lint Free. Made of Spunbond Polypropylene. Green Cap, 21". 5 box / Case, 500 Each / Case.
Manufacturer Item:
CRI1000
Manufacturer:
MEDLINE INDUSTRIES, INC.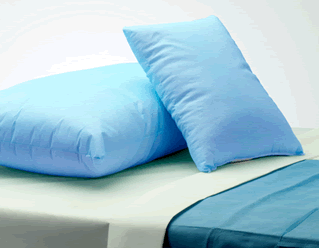 Comfort Care Pillows, Latex-Free. 20 oz., 19" X 25", and Blue in color. Provides maximum comfort and softness. Has a exclusive, breathable ticking and a slip-resistant surface. Reusable pillow with SRC, a soft resilient core, constructed with thermally bonded polyester fibers that stay soft and resilient for a prolonged useful life. Packaging: 12/Case.
Manufacturer:
ENCOMPASS PILLOW FACTORY DIVSN

Chemo Plus Floor Mat- Adhesive Floor Mat, Blue, 18" x 46" - Easily adhere to floors and are latex-free. A convenient and economical way to trap impurities from foot traffic in the pharmacy. Contain thirty peel-back layers per mat. 120/case.
Manufacturer Item:
CT0071
Manufacturer:
COVIDIEN/KENDALL HEALTHCARE

Fashion Seal Healthcare Unisex Protective Coats with "Hook & Loop" Closure at Neck. Fashion Shield front and Polyester/Cotton back. Color: Ciel (No Breast Pocket). Size: Large. Front and sleeves made of single-ply fulid-resistant barrier fabric. Back made of Polyester/Cotton blend. Concealed placket front with snap closure. Throat-Guard collar with "hook & loop" closure for improved neck protection. Two lower pockets. Back vent. Knit cuffs.
Manufacturer Item:
457 LG
Manufacturer:
SUPERIOR UNIFORM GROUP, INC.

POCKIT POUCH, Laparotomy Sponge, 18" x 18". Nonwashed. Poly CSR has no memory. 5/box, 40 boxes/case.
Manufacturer:
MEDICAL ACTION INDUSTRIES,INC.

Sta-Dri - Regular Jumpsuit, Disposable Garment. Impervious film and heat-sealed seams prevent leaking and keep you safe from blood-borne pathogens. Comfortable, 2 mil polyethylene helps you keep your cool. Easily worn under a sterile gown. Features an open-back design on jumpsuit and pant protector which promotes air circulation and reduces perspiration. One-size-fits-most sizing reduces your inventory. Packaging: 50 Units/Case.
Manufacturer Item:
SD-100
Manufacturer:
SLOAN MEDICAL CORPORATION

KIMBERLY-CLARK Universal Precautions Lab Coat with Traditional Collar and Knit Cuffs, Large, Blue. Protective 3-layer fabric material. Features: 6 snaps, 3 reinforced pockets, back vent, neck loop for hanging, size/name label. UOM: CA. Packaging: 25/CA.
Manufacturer:
HALYARD HEALTH

Protective Surgical Cap. Universal size. Blue. Coverage for hair. Protective 3-layer fabric on sides, 1-layer fabric on top. UOM: CA. Packaging: 100/BX, 3 BX/CA.
Manufacturer:
HALYARD HEALTH

Shower Cap, 8-1/2". Individually wrapped. Packaging: 500/Box, 4 Boxes/Case.
Manufacturer Item:
730023
Manufacturer:
JONES ZYLON COMPANY

Coolwear Coveralls, White, Open Wrists, Full Collar, Open Ankles, Size: XXLarge. 25/case.
Manufacturer Item:
1402XXL
Manufacturer:
PRECEPT MEDICAL PRODUCTS,INC.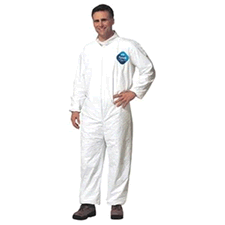 Coverall with zipper front and collar, Size-Medium. Elastic around wrists & ankles. Set sleeve pattern for greater arm movement. Tyvek® - Tyvek® spunbonded olefin is a unique, nonwoven material. Resistant to penetration, it is chemically and biologically inert, low linting and static free until laundered. White in color. Serged - A seam produced when three thread are interlocked around the raw edges of two pieces of material for a strong, stress-resistant seam. Packaging: 25/Case.
Manufacturer Item:
TY125SWHMD002500
Manufacturer:
ORS NASCO,INC.