Active Items Only Stock Items Only Latex Free Only
Description
Price
Quantity

Pedal Exerciser, Knock Down. Enjoy bicycle-type exercise from your chair. Stimulates circulation and muscle strength. Place the unit on a table to exercise arms. Made of heavy-duty steel with large knob to adjust for variable resistance. Includes comfortable pedal straps. Assembles easily for storage and travel.
Manufacturer Item:
660-2008-0099
Manufacturer:
HEALTHSMART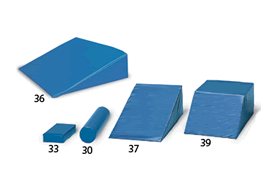 Positioning Pillows: Round Bolster. Length: 24". Width: 8" Diameter. Firm High-Density urethane foam with vinyl sewn covering. Medium Blue Color.
Manufacturer:
HAUSMANN INDUSTRIES, INC.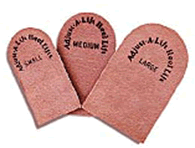 Adjust-A-Lift Heel Lift. Small- 2" Wide. Lifts the heel as needed. Durable, nonslip construction is very comfortable to wear, and features three easily-removable 1/8" layers for custom comfort. Latex Free.
Manufacturer Item:
081244177
Manufacturer:
PATTERSON MEDICAL

STIMUPLEX Nerve Stimulator Products, pain control product. STIMUPLEX dig electrode connecting cable with four-pin plug for use with STIM200 only. Packaging: 1/Case.
Manufacturer Item:
333546
Manufacturer:
B.BRAUN MEDICAL, INC.

Manufacturer Item:
110494902000
Item is no longer available.

Manufacturer Item:
00160200500
Manufacturer:
ZIMMER US, INC.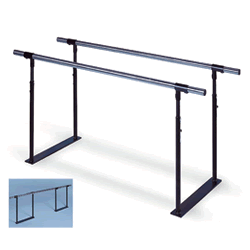 Folding Parallel Bars. Length: 7', Width: 25", Height: Adjusts from 28" to 41". Designed to easily fold and save space. Unit is only 10" wide when folded. 1 1/2" diameter one-piece stainless steel handrails for easy use and long term durability. Heavy gauge steel base plates, uprights and fittings. Black powder coated chip and wear resistant finish. Each upright telescopes up to 13" and locks into 9 height positions with fail-safe ball-tip lcoking pan.
Manufacturer:
HAUSMANN INDUSTRIES, INC.

Easireach II Reacher- Standard, 26", 7 oz.- Lightweight aluminum reacher with comfortable ergonomic handle, designed for people with limited reach or strength. The 3" jaw opening with orange slip-resistant surface gives high visibility and a secure hold on items. Magnetic tip picks up small metal objects. End post can be used to help with dressing and pulling items closer. Includes a lock-on clip to store reacher on walker or wheelchair. Reacher may also be hung by the curved hook on handle.
Manufacturer Item:
081306398
Manufacturer:
PATTERSON MEDICAL

Clinic Model BAPS Board. Very helpful for early ACL and Achilles tendon rehab programs. Includes limiter to block specific planes of motion, five ball attachments for variable ROM height control, wall rack storage system, four 2 1/2 lb weight plates for resistive weight training, two weight rods and manual.
Manufacturer Item:
081170869
Manufacturer:
PATTERSON MEDICAL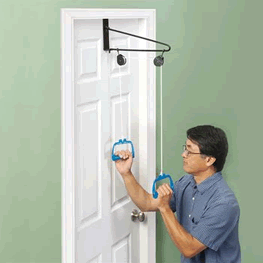 Exercise Pulley Set. Metal pulleys with plastic grips and triangular shaped handles. Latex Free.
Manufacturer Item:
081028919
Manufacturer:
PATTERSON MEDICAL

Power Supply for Intelect Legend Unit. Packaging: 1/Each.
Manufacturer:
DJO CHATTANOOGA

12 1/2" Standard Goniometer. Scale reads 0 to 180 and 0 to 360 degrees in 1 degree increments. Transparent Plastic with an opaque white background behind degree markings for easy, accurate readings. Inch and centimeter linear measurements. Latex Free.
Manufacturer Item:
081187673
Manufacturer:
PERFORMANCE HEALTH SUPPLY,INC.