Active Items Only Stock Items Only Latex Free Only
Description
Price
Quantity

Shower Chair with Backrest. Durable, lightweight aluminum frame. Blow-molded plastic seat and backrest with textured, non-slip surface. Arms provide additional support and safety.Features adjustable legs with suction cup, slip-resistant tips.Seat height adjusts from 16" to 20" in 1" increments. Seat width: 19", Seat depht: 13", Width between arms: 19". Tool-free assembly. Weight: 13 lbs. Weight capacity: 350 lbs.
Manufacturer Item:
522-1733-1900
Manufacturer:
BRIGGS HEALTHCARE

Manufacturer Item:
6540-17

Activity Tray Table. Fits 565WG Chair. Stong polypropylene tray table offers a supportive, stable work surface for activities. Easily stored in the back of chair. Patent pending "lock/lock-out" key gives flexibility to the caregiver.
Manufacturer Item:
5644WG
Manufacturer:
GRAHAM-FIELD HEALTH PRODUCTS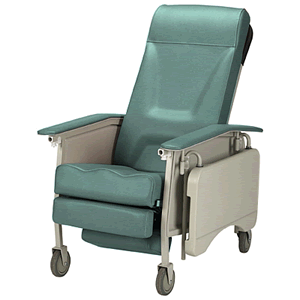 3-Position Recliner-Deluxe Adult. Jade recliner. Loaded with features and designed with ergonomics in mind. The back and seat are formed for comfort and support. Residents will appreciate the articulating headrest that supports the head and neck. The full-recline, leg-ottoman elevated and full upright postions provide maximum comfort for residents. Features: Three easy-to-attain positions: sitting, elevated leg or full recline. Blow-molded table can either slide on and off or can be locked in one of five positions. Ergonomically designed seat back and articulating headrest maximize individual comfort requirements. Zinc plated caster horns for improved rust resistance. Special woven padding on back and seat reduces the ridk of "bottoming out". Fire retardant foam and glue. Meets California 117 standard and Boston Fire Department specification. Specifications: Product Weight Capacity: 250 lb. weight bearing capacity. Dimensions: Overall: 28"W x 37"D x 47"H Tray: 25.5" x 15". Overall Height: 47". Overall Width: 28". Overall Depth: Upright 41" Reclined 68". Seat Width: 18.75". Seat Depth: 19.5". Seat To Back Height: 32". Seat To Floor Height: 21". Product Weight: 92 lbs. Shipping Product Weight: 105 lbs. Packaging: 1/Each.
Manufacturer Item:
IH6065A/IH68
Manufacturer:
INVACARE CONTINUING CARE

Manufacturer:
INVACARE CONTINUING CARE
Item is no longer available.

Field Installed Adjustable arm system (complete system).
Manufacturer Item:
9A328002
Manufacturer:
MIDMARK CORPORATION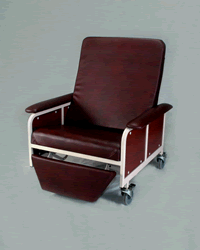 Bariatric Recliner Chair, Weight Capacity of 850 lbs. Features rear push bar and a gas assist manual recline. Recline position to 42 degrees. Wide, comfortable back provides outstanding comfort and durabiltiy. Has a reinforced inner steel frame that accommodates the 850 lb capacity. The rear casters lock and are non-swivel while the front casters swivel and swivel lock. Provides a choice of 5 standard upholstery colors: Burgundy, Navy, Black, Brown, and Gray. Seat height: 20.25", Seat width: 29.25", Armrest to floor: 26.75", Overall width: 38.25", Overall depth: 38", Back height: 33", Seat depth: 19.25". Packaging: 1/Each.
Manufacturer:
CONVAQUIP BARIATRIC EQUIPMENT

Lumex Three Position Recliner. Royal Blue Color. Specifically designed to improve the comfort and mobility of residents in extended care facilities. Easily adjusts into any one of three positions: Sitting, TV or full recline. Offer numerous therapeutic benefits including position changes that can aid in circulation and ease discomfort from respiratory, hear and other ailments. A position lock allows only caregiver to secure chair in any position. Recliner encourages natural relaxation and improved blood circulation. Flex-o-Lator seat support system increases comfort by reducing risk of "bottoming out". Ergonomically designed seat and back with varied density foam construction provides correct support. Articulating headrest quickly adjusts to maximize individual comfort requirements. For safer, easier transport, two 4" swivel casters with wheel locks and 4" fixed front wheels. The molded activity table can be fixed in position or left unsecured for easy exit from the recliner. Durable welded steel epoxy coated frame is easy to clean and maintain. Weight Bearing Capacity: 250 lbs. Warranty: 1. Frame- limited 2 year, 2. Upholstery: Limited 1 year, 3. All other components: Limited 1 year.
Manufacturer Item:
574G454
Manufacturer:
GRAHAM-FIELD HEALTH PRODUCTS
Item is no longer available.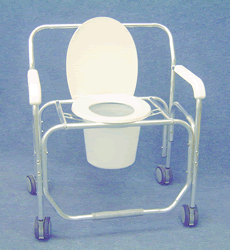 Bariatric Wheeled Shower Chairs, Weight Capacity of 650 lbs. Limited lifetime warranty on frame. Constructed wtih 1" anodized aluminum tubingand a 7/8" inner liner for double wall tubing throughout for double strength. Anodized aluminum and stainless steel fasteners prevents rusting. Easy lock and unlock braking system on back casters. Fits over 19" commodes. Back is angled for easy pushing and pulling. Contoured arms and vinyl heel rest standard. Widthbetween arms: 26", Seat depth: 16", Seat height: 21", Overall dimensions: 35.5" x 29" x 21", Perineal opening 8" x 10", Actual weight 26 lbs - 28 lbs. Packaging: 1/Each.
Manufacturer:
CONVAQUIP BARIATRIC EQUIPMENT
Item is no longer available.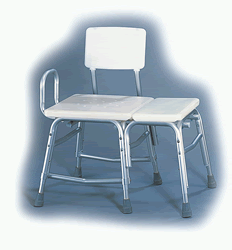 Bariatric Heavy Duty Transfer Bench, 500 lbs weight capacity. Heavy duty molded seat and back. High strength aluminum design. No tools required. Seat dimensions: 16"D x 26.5"W. Lifetine warranty on frame. Packaging: 1/Each.
Manufacturer:
CONVAQUIP BARIATRIC EQUIPMENT

Manufacturer Item:
1134780
Manufacturer:
INVACARE CONTINUING CARE

Manufacturer Item:
270000