Active Items Only Stock Items Only Latex Free Only
Description
Price
Quantity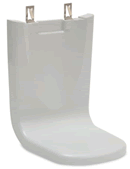 SHIELD Floor & Wall Protector. Helps maintain wall and floor appearance by attaching to the bottom of any 1000 mL NXT® dispenser. Protects floor, wall and countertop. ADA-compliant; simple and easy to install. Works with previously installed systems. 6/case.
Manufacturer Item:
2145-06
Manufacturer:
GOJO INDUSTRIES, INC.

Manufacturer Item:
A500F48
Manufacturer:
PDI/HEALTHCARE DIV. NICE PAK

Soap, Hand; Antimicrobial; Decon Bacdown; Formulated specifically for laboratory personnel; Active ingredient triclosan; Wil not dry skin; 34 oz. (1L) Pump Bottle.
Manufacturer:
DECON LABS, INC.