Active Items Only Stock Items Only Latex Free Only
Description
Price
Quantity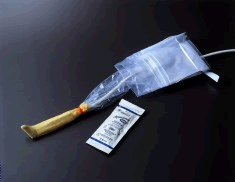 Latex-Free Surgi-Boot Intraoperative Covers, Sterile. 15.2 x 244cm (6" x 96") poly telescopically-folded cover with attached form-fitting latex-free NeoGuard tip. The surgi-boot intraoperative transducer cover provides an extended field of sterile protection against cross-contamination during ultrasound procedures. The form-fitting tip provides a snug fit to small footprint transducers. Surgi-Boot covers are individually packaged with sterile gel packet and colored elastic bands. Packaging: 12/case.
Manufacturer Item:
610-797
Manufacturer:
CIVCO MEDICAL SOLUTIONS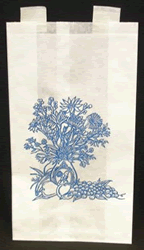 TIDI, Bedside Bag, 6 1/2" x 3 1/8" x 11 3/8", White with Blue "Floral" Print, Flame Retardant Paper. LATEX FREE, disposable. Dual pressure-sensitive tabs keep it securely fastened to table top, bedrail or nightstand. For hospitals, clinics, and long-term care facilities. UOM: CA. Packaging: 2000/CA.
Manufacturer Item:
950231
Manufacturer:
TIDI PRODUCTS, LLC.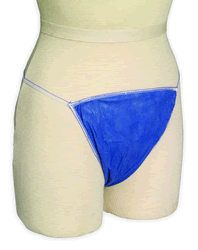 Patient Apparel, Dark Blue, One size fits most, 200(individually bagged), SMS nonwoven bikini, Bikini Brief-All edges elastic and finished, Elastic-finished side bands, Comfortably fits a range or sizes, Individually bagged.
Manufacturer Item:
960350
Manufacturer:
TIDI PRODUCTS, LLC.

Standard Gowns, Blue. Contains Tissue/Poly (TP) material which is a soft tissue bonded to a fluid-resistant sheet of polyethylene. The tissue absorbs fluids; poly protects and adds strength and is even durable when wet. Size: 30" X 42". Packaging: 50/case.
Manufacturer Item:
70226N
Manufacturer:
GRAHAM MEDICAL PRODUCTS

Specialty Pediatric Printed Exam Gowns, Animal Parade. Contains Tissue/Poly/Tissue (TPT) material which gives you three layers of protection. Has a soft tissue on the inside and out, with a fluid-resistant sheet of polyethylene in between. Adds strength, comfortability, and is even durable when wet. Size: 20" X 36". Packaging: 50/case.
Manufacturer Item:
70280N
Manufacturer:
GRAHAM MEDICAL PRODUCTS

Impervious Film Gown, Thumbhooks, Perforated Open back, Blue, X-Large. Potential for soaking and heavy fluid contact in front. Packaging: 12/dispenser, 5 dispenser/case.
Manufacturer:
HALYARD HEALTH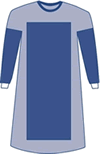 Aurora Gown, Poly Reinforced. Offers an Unbeatable Combination of Protection and Comfort. Aurora gowns are made with Suprel medical fabric from DuPont. This innovative fabric is manufactured using a patented process (utilizing 18 patents)to create a fabric that's both highly protective and extremely comfortable.The fabric features an advanced composite technology that utilizes polyester (for strength) combined with polyethylene (for softness). Aurora gowns offer a high level of protection without compromising comfort. Featuring new fabric technology, Aurora raises the bar for single-use O.R. gowns. Aurora gowns have a smooth texture that glides easily without catching or grabbing, giving you incredible freedom of movement. Plus, the gown helps to quickly transfer heat away from your body, keeping you cool and comfortable. They are cut wider through the chest and sleeves for a roomier fit and feature a velcro-style neck closure that allows the neckline to easily adjust to a wide variety of people. Large (43"). 30 Each/Case.
Manufacturer Item:
DYNJP2707
Manufacturer:
MEDLINE INDUSTRIES, INC.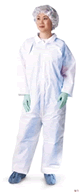 Classic Breathable Coveralls. Impervious, Straight Sleeve and Ankle, White. Extra Large, Straight Sleeve and Ankle. Classic Coveralls Are Ideal for the Maternity Ward or the O.R. These latex-free coveralls are made of totally fluid-proof, yet breathable material. Medline's deluxe cut coveralls are extra roomy and fit easily over street clothes for quick access to the O.R. or clean areas. Each coverall features a full length zipper in front, elastic gathers in back for a superior fit and extra room in the sleeves for easy mobility. The breathable coveralls are great for extended wear periods and are a more comfortable and cost effective option to Tyvek coveralls. 25/case.
Manufacturer Item:
NONCV300XL
Manufacturer:
MEDLINE INDUSTRIES, INC.

Bouffant Caps, Green, 24". Premium quality with soft elastic headband for maimum coverage. Spunbound polypropylene construction for durability, ventilation and comfort. Fluid resistant. Packaging: 100/box, 5 boxes/case.
Manufacturer:
AMD MEDICOM, INC.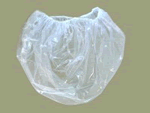 18" Kaps Cover. Sterile.
Manufacturer:
PREFERRED MEDICAL PRODUCTS

Pediatric NonWoven Medishorts, Navy Blue. Ages 5-11. Sized just right for pediatric patients,our elastic waist exam shorts provide modesty and comfort, as well as roominess that allows for full range of motion. Latex-free sewn elastic waist band ensures secure fit. Ideal for office visits, exams, and regular checkups. Also good for sports medicine, physical therapy, hydrotherapy and more. Packaging: 50/Case.
Manufacturer:
GRAHAM MEDICAL PRODUCTS

2" Molded Binders. Side Open. 11 5/8" H x 11 1/8" W x 2 3/4" D, 2" Ring Size. Color: Forest Green. Designed to meet the most demanding medical record storage requirements. Whether for hospital or long term care charting, our 2" Molded Binders provide quality and value to the medical professional. Holds 350+ sheets. Patented "twin hinge" design. 5 year guarantee.
Manufacturer Item:
205007-FG3
Manufacturer:
OMNIMED,INC.