Active Items Only Stock Items Only Latex Free Only
Description
Price
Quantity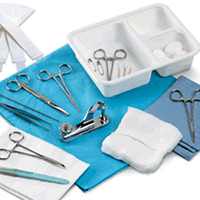 DEVON Stock Circumcision Basic Tray without straps- Designed with all of the necessary tools required for a routine circumcision procedure. The trays are convenient, sterile, single use and completely disposable. Designed to save time and money. 20/Case.
Manufacturer Item:
52000005
Manufacturer:
COVIDIEN/KENDALL HEALTHCARE

Debridement Kit, A/005156. Packaging: 30/Case.
Manufacturer:
CENTURION MEDICAL PRODUCTS

Tiburon fluid control laparoscopy pack. Packaging: 10/case.
Manufacturer:
CARDINAL HEALTHCARE CORPORATON

T-Handle Illinois Bone Marrow Aspiration Needles. 15G x 3". Our T-handle Illinois aspiration needles feature an adjustable depth stop from 3/8" to 1 7/8" for sternal or pediatric application. For iliac crest use, simply remove the depth stop to expose the 3" aspiration cannula. The two-piece T-handle design is procedurally efficient, simple to use and fits comfortably in your hand. It is designed to provide tactile feedback and increased control during needle insertion. Packaging: 10/Case.
Manufacturer Item:
TIN3015
Manufacturer:
CAREFUSION 2200
Item is no longer available.

Manufacturer Item:
MDS231318LF
Manufacturer:
MEDLINE INDUSTRIES, INC.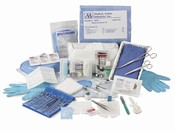 Central Line Dressing Tray w/ Tegaderm Folded Drape, Sterile, One Time Use. Contains: 1 Earloop. 1 Pair of Gloves. 1 Folded Drape. 1 Alcohol Swabstick (3). 1 ACU-dyne swabstick (3). 1 ACU-dyne ointment. 1 Split sponge 2" X 2". 3 Gauze sponge 4" X 4". 1 Prep-Site swabstick. 1 Tegaderm 10cm X 12cm. 1 Roll plastic tape 1" X 18". 1 Dressing change label. Packaging: 20/case.
Manufacturer:
MEDICAL ACTION INDUSTRIES,INC.

PICC Two-Lumen Peripherally Inserted Central Catheter Set with Blue FlexTip Catheter for Radiology Placement with 80 cm Platinum Tipped, Marked Wire. 1 Two-Lumen Indwelling Catheter: 16 Ga. x 19 1/2" Radiopaque Polyurethane with Blue FlexTip, Extension Line Clamps,Injection Site Caps, 1 Sheath: 14 Ga. x 4" Radiopaque Peel-Away over 5 FR. Dilator, 1 Spring-Wire Guide, Marked: 0.018" dia. x 31 1/2" (Straight Soft Tip on One End- Straight Stiff Tip on Other), 1 Spring-Wire Guide: 0.018" x 17 13/16" (Straight Soft Tip Both ends), 1 Introducer Needle: 21 Ga. x 2 3/4" TW, 1 Syringe: 5 cc Luer-Slip, 1 Foil-Laminated Pouch 79% Skin Protectant Prep Pad, 1 Catheter Clamp, 1 Catheter Clamp Fastener, 1 Chart Sticker, 1 Patient ID Card, 1 Patient Information Booklet, 1 StatLock Catheter Securement Device Dressing, 1 Paper Tape Measure. 5/case.
Manufacturer Item:
PR-05052-MW
Manufacturer:
TELEFLEX/ARROW INTERNATIONAL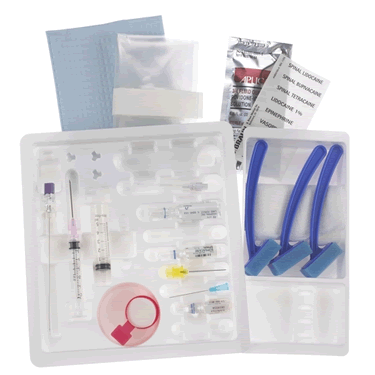 PENCAN Spinal Tray, pain control product. Tray contains: PENCAN 24Ga. x 4". 25Ga. x 1.5" skin wheal/infiltration needle. 3cc luer lock syringe with pre-attached 18Ga. x 1.5" needle. Epinephrine 0.1%, 1mL. Bupivacaine 0.75% with dextrose 8.25%, 2mL. Lidocaine HCI 1%, 5mL (skin wheal). Filter needle. 4" clear plastic fenestrated drape, 30" x 40". Needle block foam with holder. Packet povidone-iodine solution. 20Ga. x 1.25" TW introducer needle. 5cc clear plastic luer slip syringe. Paper towel, 3 ply. 4 x 4 gauze sponges (4 per tray). Packaging: 10 units/Case.
Manufacturer Item:
333868
Manufacturer:
B.BRAUN MEDICAL, INC.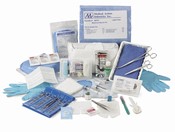 ONE TIME, Suture Removal Tray. Sterile. Includes one each: 4" x 3" filled sponge, plastic thumb forceps and 4 1/2" sharp/sharp scissors. 50/case.
Manufacturer:
MEDICAL ACTION INDUSTRIES,INC.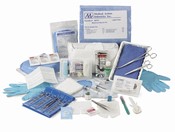 Minor Procedure Tray with Serrated Needle Holder. Includes 5 1/2" curved KELLY hemostat, towel and fensestrated drape, refuse bag with twist tie alcohol prep swab, ACU-DYNE prep swab, 4 4" x 4" gauze sponges, 5" metal insert forceps, 5" needle holder and 5 1/4" sharp/blunt scissors. 20/case.
Manufacturer:
MEDICAL ACTION INDUSTRIES,INC.

Cholecystectomy Tray
Manufacturer Item:
KNC60XL
Manufacturer:
ETHICON ENDO-SURGERY, INC.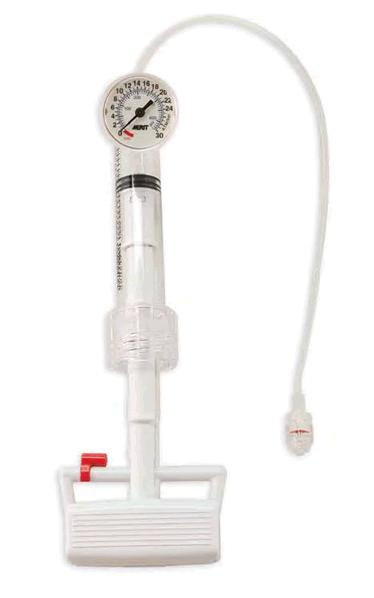 basixCOMPAK Inflation Device. Polycarbonate, ABS, 13", flexible braided male, rotating. Medical Grade silicone. -1 to 30 ATM/bar, 0 to 441 PSI, Preset, Automatic, Luminescent dial. EtO, 25 degrees, 9". 5 units/box, 4 boxes/case.
Manufacturer Item:
IN4130
Manufacturer:
MERIT MEDICAL SYSTEMS, INC.