Active Items Only Stock Items Only Latex Free Only
Description
Price
Quantity

KIMTECH SCIENCE*KIMWIPES*Delicate Task Wipers, 1-ply, White. Size: 11.8" X 11.8" with a pop-up box. Is a light duty wiper that can handle a variety of delicate tasks. Easily wipes up liquid and dust. The anti-stat dispensing reduces lint and electrostatic discharge and controls usage. Features one at a time dispensing and is portable to reduce waste. Packaging: 196/pack, 15 pack/case.
Manufacturer:
KIMBERLY CLARK PROFESSIONAL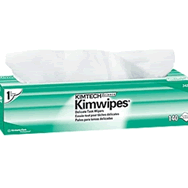 KIMWIPES*Disposable Wipers, 15in. X 17in., 1-ply, white. Soft, absorbent wipes ideal for delicate tasks. Specialty wipers are the industry standard for laboratory wipers. Packaging: 140 wipers/box, 15 boxes/case, 2,100 wipers/case.
Manufacturer:
KIMBERLY CLARK PROFESSIONAL