Active Items Only Stock Items Only Latex Free Only
Description
Price
Quantity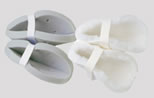 Heel/Elbow Protectors- Universal Size- Poly/Pile. 1 Pair.
Manufacturer Item:
79-81040

KENDALL HEALTHCARE.#DP5002G. CHEMO GOWN. X-LARGE. LIGHT BLUE. LATEX-FREE. CHEMOBLOC POLY-COATED GOWNS FOR MAXIMUM PROTECTION. OPEN BACK DESIGN. SPLASH-RESISTANT POLY-COATED FRONT AND SLEEVES. LIGHTWEIGHT, NON-LINTING FABRIC. CLOSED FRONT AND SIDE DESIGN FOR ADDED PROTECTION AGAINST SPILLS. LONG SLEEVES WITH KNIT CUFFS. WAIST TIES WITH VELCRO NECK CLOSURES. OPEN BACK FOR MAXIMUM VENTILATION. MEETS OSHA, ASHP, AND ONS RECOMMENDATIONS FOR WEARING A GOWN WHILE PREPARING OR ADMINISTERING CHEMOTHERAPY DRUGS. 12 PER BAG, 2 BAGS PER CASE (24/CASE).
Manufacturer Item:
DP5002G
Manufacturer:
COVIDIEN/KENDALL HEALTHCARE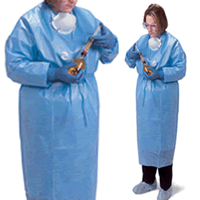 ChemoBloc Maximum Protection Poly-Coated Gowns, Open Back, Medium- Lightweight, non-linting fabric with long sleeves and knit cuffs. Open back increases ventilation. Meets ASHP and ONS recommendations for wearing a gown while preparing or administering chemotherapy drugs. Splash resistant. 24/case.
Manufacturer Item:
DP5003G
Manufacturer:
COVIDIEN/KENDALL HEALTHCARE
Sta-Dri - Non-Skid Jumpsuit, Disposable Garment. Impervious film and heat-sealed seams prevent leaking and keep you safe from blood-borne pathogens. Comfortable, 2 mil polyethylene helps you keep your cool. Easily worn under a sterile gown. Features an open-back design on jumpsuit and pant protector which promotes air circulation and reduces perspiration. One-size-fits-most sizing reduces your inventory. Packaging: 50 Units/Case.
Manufacturer Item:
SD-150
Manufacturer:
SLOAN MEDICAL CORPORATION

Utility Aprons. 36" x 27". Features bound edges, neck band, and side tie tapes. 1 each.
Manufacturer:
GRAHAM-FIELD HEALTH PRODUCTS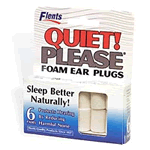 Flents Quiet Please Foam Ear Plugs
Manufacturer Item:
05611008145
Manufacturer:
PRESCRIPTION SUPPLY, INC.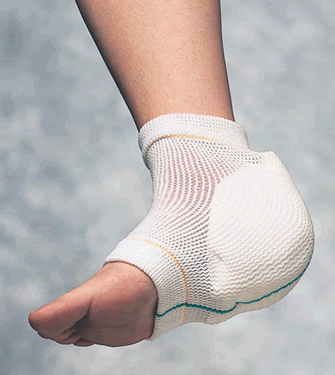 XX-SPAN Heel and Elbow Protector, Large/White. A latex-free patented four-piece foam cup to keep heels and elbows from resting directly on hard surfaces. Features a comfortable two-way stretch XX-Span sleeve fabric that helps eliminate unnecessary pressure, heat, and moisture buildup. Is a washable protector that adjusts easily to properly fit patients with edema. Packaging: 1/Box, 12/Case.
Manufacturer:
ENCOMPASS/ALBA HEALTH, LLC.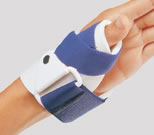 ThumbGUARD- Right Thumb, Width (across palm of hand): 3.25"- 3.75", Large - Lightweight protection and stabilization for collateral ligament injuries to the thumb. Constructed with preformed plastic outer shell and thin foam inner-liner. May be trimmed with cast scissors for anatomically correct fit. Ideal for dislocations, collateral ligament injuries (gamekeeper) and Arthritis of the thumb.
Manufacturer Item:
79-87267
Item is no longer available.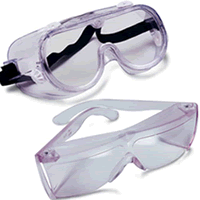 Protective Eyeware Wraparound Goggles- Durable plastic construction. One size that comfortably fits over most eyeglasses. Ventilated. 6/Case.
Manufacturer Item:
DP5030G
Manufacturer:
COVIDIEN/KENDALL HEALTHCARE

Rolyan Palm Protector- Left palm- Helps prevent finger contractures and skin breakdown in the palm. Palm protector is pre-rolled and tacked down for simple application. Closed-cell lined with comfortable sherpa fabric. latex free. 3/pkg.
Manufacturer Item:
081292671
Manufacturer:
PATTERSON MEDICAL

Heel/Elbow Protector, XX-Large, Beige in color. Packaging: 12 Pairs/Box.
Manufacturer:
HEALTHSMART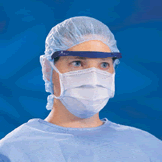 Complete Eye Shield. Non-Sterile.
Manufacturer Item:
23-505
Manufacturer:
DEROYAL INDUSTRIES, INC.